Managed Objects: CMDB Repository Application
Building a crowd sourcing type solution for Configuration Management Database (CMDB) repositories
Managed Objects knew they needed to come to market with a new product, and the CEO wanted it to be "sexy". I worked with the development team to provide a blueprint for visual direction and user interaction design. I started with an overall mission statement provided by the CTO and a brainstormed list of feature requirements. With that, I set to work on a large set of high resolution mockups. When development was underway, I collaborated with the team to provide CSS code, refine interaction design and solve issues.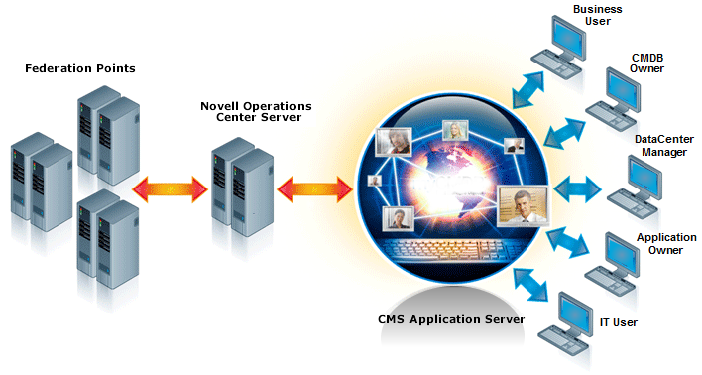 "Janet has many skills, but the most significant was putting a polished face on an emerging company, since it is much harder to create than it is to edit or change. Janet's graphical design for the application client (of a client/server application) took excellent underlying technology from the simplistic look of a high school science project to a functionally well-designed and very professional look that has held up intact in the face of significant additions in the eight years since. I routinely stole items from her graphics library for my own use, because they conveyed that same sense of professionalism I needed. Janet also took product documentation from nearly non-existent to a full set encompassing a broad range of feature/function that was changing nearly every month. In the process, she developed and maintained a document template and a writer's guide that were critical to my success in creating my own high-quality training material. Whatever your needs in the areas of design and writing, Janet will make a significant positive impact."
"Janet is one of the best visual and interactive designers I have had the pleasure to work with. She can take a muddled, hard to navigate user interface and turn it into a thing of beauty…she did this with several of my initial designs. Her skills in human factors and ease of use combined with her graphic and writing skills make her an asset that is very hard to replace. She is a great person too!"
My Role & Deliverables
My work was interwoven throughout this project as we created the new myCMDB product.
Feature & Functionality Brainstorm & Mapping
We came together as a team to brainstorm what the product might be like and to dump out a list of possible features. From there, I worked with the team to streamline the feature set by identifying would be the highest propriety to deliver, and what would be sexy add-ons if development time permitted.
Customer & Stakeholder Interviews and Feedback
I put together mockups and prototypes to get feedback for product design and functionality from internal stakeholders and customers.
High-Fidelity Mockups
I also put together a set of high-fidelity mockups that the CEO and Sales were able to use in a variety of presentations to talk to potential customers and industry analysts, and start to sell the product while we were still in development.
Collaborative Rapid Design & Development
My mockups for each feature set were used to collaborate with developers on the interaction design and communicate visual elements in lieu of the old-school requirements and design documents.  I worked closely with development to design and document, just ahead of and in parallel to coding efforts — working iteratively providing CSS and HTML code snippets, and finding solutions to issues as we encountered them. It was a fast and streamlined process.
User Research and Product Goals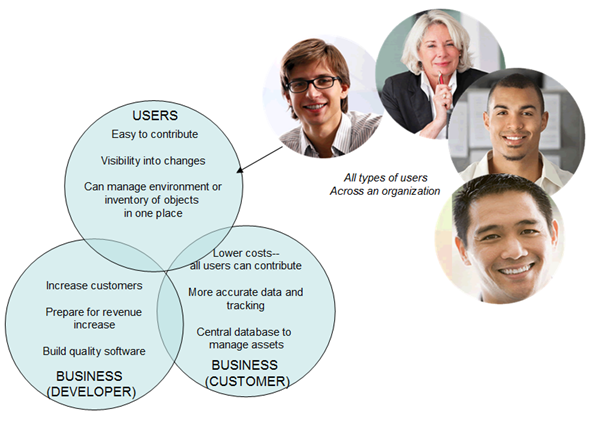 User Research & Product Goals
Mind Mapping Feature Sets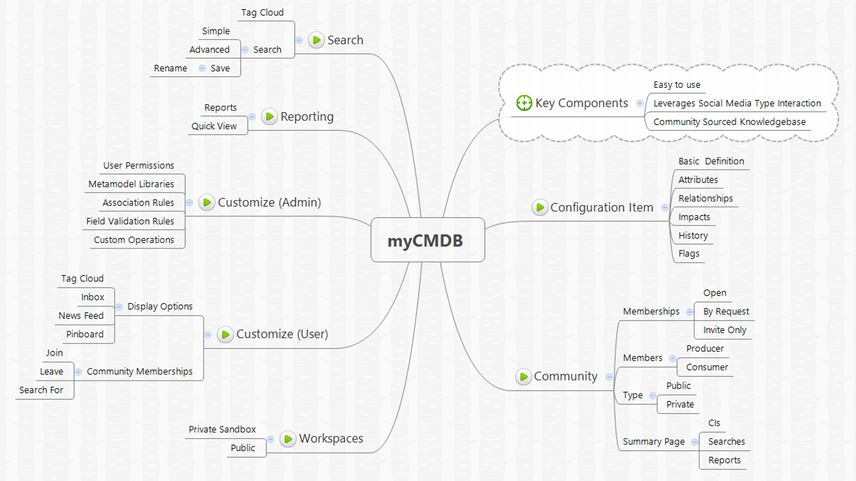 Features and Functionality
High-Fidelity Mockup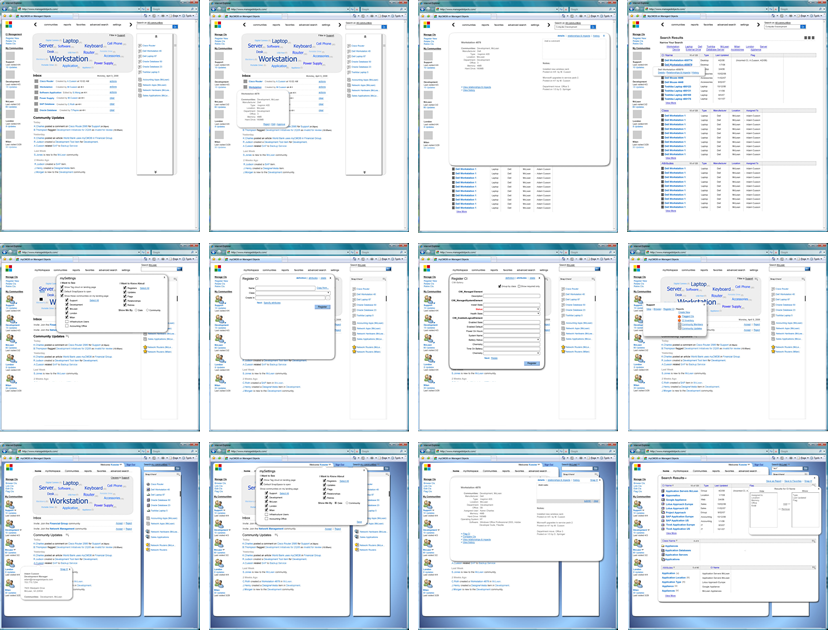 I produced a large library of high-fidelity mockups showing nearly every feature and each step the user would take to perform a task.
I used these for usability testing and to get feedback from customers, as well as collaborate with developers.  
The Results
The final design was beautiful and streamlined with docked panels. It was rebranded with different colors and logo when Managed Objects was acquired by Novell.