Oakton Church of the Brethren
Website Redesign
We were delighted when Oakton's Action and Reflection Committee contacted us to redesign their church website. They were frustrated because their in-house efforts to build a website had dragged on for at least two years with no substantial output. They asked us for a clean, elegant, and friendly website. They also needed a way to publish MP3s of sermons, and told us they would love a photo slider.
The Results
Oakton's existing site had lots of good content that needed to be organized and updated. We began by working with them on their information architecture and site structure, while at the same time starting from scratch on the design. We presented the committee with several mock-ups, each of which gave them a way to welcome visitors, while easily sharing events and information with their congregation.
We implemented a photo slider on the home page that provided lead-in and point of interest for priority topics. We worked with the committee to update content and integrate new photos while the site was under construction.
The new site was built with a content management system that will allow church staff to update and maintain content, post events, and list new sermon MP3 files.
Oakton Church of the Brethren was thrilled with the results, and so are we! It was a joy to build a website that reflects such a strong congregation.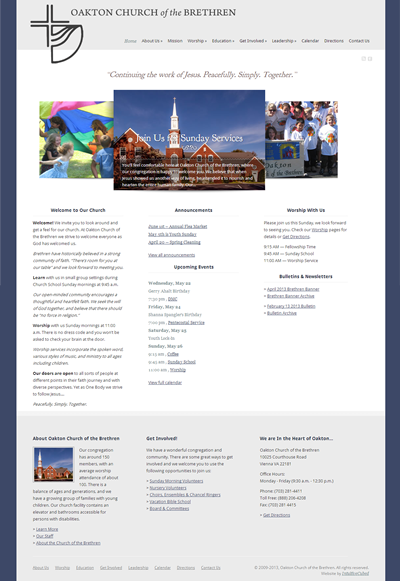 "We recognized the need for a significant update to our church website. Janet met with the committee and made us feel comfortable from the beginning. Her listening skills serve her well, and we were very pleased that she was able to synthesize our discussion and her own research of the current website and the denominational resources into a product that was amazingly representative of our congregation and addressed our needs. Janet helped us work at adding the necessary information and design by asking appropriate questions and integrating material submitted by the committee. She was very patient with the committee processes and helped us negotiate through the necessary decisions about structure and access permissions. All of this was accomplished in a timely fashion. Her business is well named, as she was able to intuitively discern who we are and what we stand for as an organization and translate that into an online presence. In addition, you will find Janet to be a calm, pleasant, helpful person to work with and I cannot say enough about our appreciation for what she was able to do for us at Oakton Church of the Brethren."