Designer Portfolio Site: Usability & Responsiveness
Scott Cooke Design
Scott Cooke is an Interior Designer in the Washington DC area. He caters to an upscale clientele base,
and it is important that his website show the level of design and elegance that he has mastered. 
When I redesigned Scott Cooke's website, it was overdue…it had been nearly a decade since I designed his first site. The new site was to be more modern and elegant, with white space to match. This website is a showcase for Scott's work and a way for future clients to gain trust his design sense and his ability to get things done for them.
I made sure to put him in a responsive theme as the volume of mobile traffic to his website has increased dramatically over the last year (plus it is my standard now on all sites I design and build). Some modifications for responsiveness were just standard to all sites that I build, but for Scott's website I put in a few extra to ensure that the experience on his project pages was good for all users (desktop, tablet and mobile). We tested with some ideal users to make sure the site would be well received.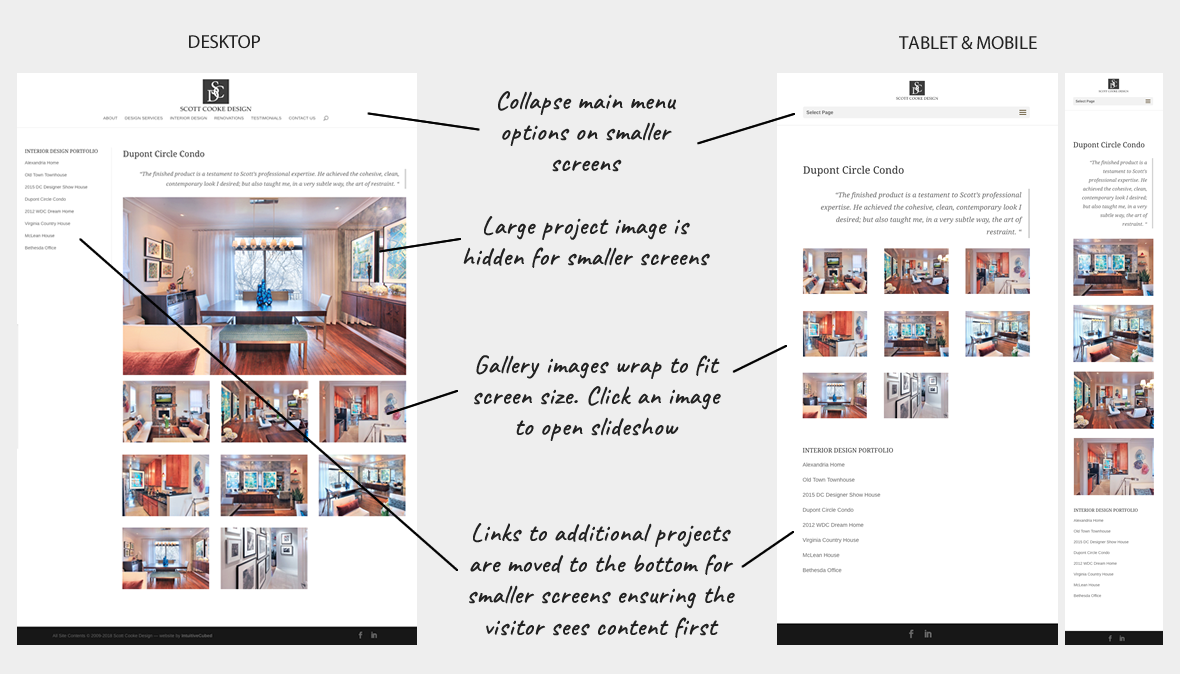 Video Screen Capture
Want to see more about how this site adapts for different devices?
This video shows how the portfolio pages adjust with each device size going from desktop, to tablet, to mobile.
    

"As an interior designer, and landscape designer, I needed to organize the various categories of my work, and introduce the viewer to what I do, and the body of my work. Janet did a wonderful job of "getting in my head" to understand my aesthetic, and offered valuable suggestions and powerful visual aids, to make the site easy to use, and visually pleasing. I found Janet to have a high taste level that reflected refined and simple elegance, and a firm knowledge of the necessary elements needed to make the site easy to navigate. Janet is really a pleasure to work with, and I found myself very much at ease during the entire process of the building of the site. The compliments that have come from site visitors have been overwhelmingly positive, and I have garnered countless positive reviews from respected designers in the field as well. I plan on continuing my working relationship with Janet, and view her as a valuable player in the scope of the development of my company; I feel confident in giving Janet Wayland my very highest recommendation."
Scott Cooke, Scott Cooke Designs